Greenhouse Technologies is a specialist and market leader in Southern Africa of agricultural and under cover farming products. Established in 2007, the company has become a fast-growing market leader in the agricultural industry. Greenhouse Technologies is managed by firstly owned and current Managing Director, Francois de Kock.  Now it is half-owned by AA Politiv in Israel.  The company is operated as a highly professional company and offers technical support to all our customers on our wide range of products.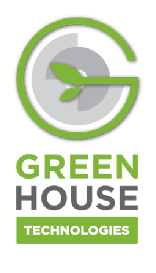 The company supply the agricultural industry with the highest quality products of which is AA Politiv polyethylene- greenhouse film, Klasmann-Deilmann peat moss of which the company is exclusive agent in Southern Africa.  Irrigation products from Spain and France, machinery and equipment from The Netherlands as well as coir growing medium from India. This is just a few of the imported products that Greenhouse Technologies has to offer and has exclusive agencies. Our suppliers are recognized internationally and mostly comply with ISO quality assurance.
The company has a head office in Johannesburg and branches and agents in Cape Town, East London, Kwa-Zulu Natal, Limpopo, Mpumalanga, Botswana and Zimbabwe.  Greenhouse Technologies is highly active and will be expanding into various other areas in Africa soon.
Our customers are mostly undercover farmers but we do supply some open field irrigation products, crop protection and films. Our customers' crops are vegetables, seedlings, flowers, pot plants, citrus trees, trees and nursery plants.
Our sales and technical staff are trained by our internationally qualified suppliers on the various areas and product we have to offer. Our staff is also sent to various countries for training and to attend agricultural exhibitions. This ensures correct advice and information of what is available and best suited for each and every customer and grower. We provide reliable customer service to all our customers where the extra mile is no effort and always follow the latest trends in products.
Greenhouse Technologies is also a proud member of various organizations in South Africa like SA Avocado Growers, South African Nursery Association, Citrus Research Institute, SGASA, IPPS, SAIAE, SABI and TLU.
Francois de Kock
Managing Director
c: +27 (0)82 563 3359
t: +27 (0)11 613 3103
f: +27 (011 613 2095
e: [email protected]
www.ghtech.co.za
Multiflora Flower Market, Cnr. Vickers & Fig Place, City Deep, Johannesburg